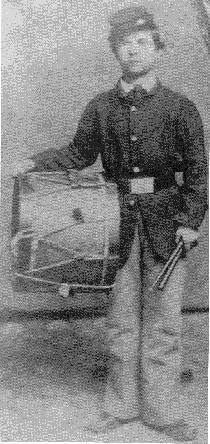 Willard Wheeler Nye,
Drummer Boy, 23rd Illinois,
8th Kansas & 139th Illinois Infantry
The Little Drummer Boy
Willard Wheeler Nye raised a few eyebrows when he showed up at a Union enlistment office. Only 14 years old, and slightly built even for his age, he seemed an unlikely soldier, but the 23d Illinois found a place for him as their drummer boy. In less than two months, Nye was captured. Besieged at Lexington, Missouri, his regiment waited five days for reinforcements that never came. On September 20 the Illinoisans surrendered and shortly thereafter paroled.
After a short visit home, Nye signed up again, with his friend Captain Edgar Trego. All Illinois units being full, they joined the 8th Kansas Infantry. The two served together on garrison and provost duty, then left for the front in Kentucky. They fought together until September 1863 and the Battle of Chickamauga. Trego kept a protective eye on Nye throughout the fighting of that day and took him along on an evening sortie to collect wounded men from the field. During the excursion, Trego was killed by a sharpshooter's bullet. Nye, devastated by the loss, packed Trego's belongings for shipment back to his widow. With the package he enclosed a note: "Captain Trego was a brave soldier, a fine man and a splendid gentleman. He was always good to me."
Nye continued to serve during the siege of Chattanooga and in the battles around that city in November, where he was often called upon to carry wounded and assist the surgeon. In December, exhaustion, poor rations, and bad weather took their toll on the diminutive drummer boy. He fell ill and was discharged from duty. After four months of recuperation at home, he enlisted as a 100-day volunteer in the 139th Illinois. He served on garrison duty until he was finally mustered out in October 1864.
At the close of the war, Nye returned to school. He became a medical doctor and eventually settled in Hiawatha, Kansas, where the "Little Doctor" (even as an adult he was barely over five feet tall) became a respected member of the community until his death in 1938 at the age of 92.