Hutchinson Singers
Revival Project



The 1840s represent a watershed in the history of American music and culture. Perhaps no other singing group dominated the concert circuit more than the popular middle-class minstrels known as the Hutchinson Family Singers. They sang about rural life, abolition, temperance, politics, war and women's suffrage. They sang to packed concert halls throughout the Notheastern United States. They performed for Henry Clay, Frederick Douglas and President Lincoln. They also graced the stage throughout the Capital District region raising their voices in Albany, Saratoga Springs, Ballston Spa and at the Morris Place Concert Hall in Troy. The Morris Place Concert Hall was located at Congress Street between Second and Third Street. The Hutchinsons toured as common farmers turned respectable performers and their music stressed idealism, social reform, equal rights, philanthropic idealism, spiritualism, moral improvement, community activism and patriotism. After an 1843 appearance in New York City at the famous Tabernacle Concert Hall critics hailed the quartet as the first new thing on the musical landscape. The group's signature song "The Old Granite State" proclaimed them as friends of emancipation. They popularized their songs by combining their lyrics with familiar melodies. Jesse Hutchinson's songs "Lincoln & Liberty", Lincoln's 1860 campaign song and "Get Off The Track" an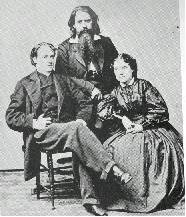 anti-slavery song were written to the tunes of "Old Rosin the Beau" and "Old Dan Tucker" respectively. The career of the Hutchinsons spanned the major social and political movements of the mid-nineteenth century including the Civil War. During a series of concerts they also introduced the popular war song, "The Battle Cry of Freedom" by George F. Root, and their sponsorship had made it an immediate success. The Hutchinson Family Singers established an impressive musical legacy. They were the forerunners of the great protest singers/songwriters/ folk groups of the nineteen fifties and sixties.
John C. Quinn with support from the Milford Historical Society and New Hampshire Writer's Project is writing a Hutchinson Songster with a companion music CD. For more information call 518-734-5655.
To the left is a photo of the Hutchinson Family Singers. John Hutchinson is on the left. Henry Hutchinson is in the center standing. Their sister Viola is on the right. A second sister, Abby, also performed with the group. They sang in the camps of the Army of the Potomac.

A Few Interesting
Facts:
Asa Hutchinson sang frequently with Walter Kittredge who was known as the Minstrel of the Merrimack. Kitteredge composed "Tenting On The Old Camp Ground"

The Hutchinsons popularized Kittredge's gem of a song. They gave the first public performance of the song at High Rock in Lynn, MA in the summer of 1863.

Source : Walter Kittredge Minstrel of the Merrimack by George Calvin Carter, 1953.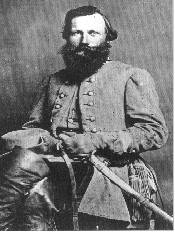 It would be difficult, if not impossible, to find a Civil War soldier who loved music more than Confederate Major General J.E.B. Stuart. Even in the heat of battle with shells bursting around him and mini balls whistling by his head, Stuart frequently sang, hummed or whistled. He was the only officer known to have his own banjo player, Sam Sweeney, who constantly serenaded him while in camp or on march. Stuart even named his horse "My Maryland". Some of his favorite songs were Lorena, Home Sweet Home and Kathleen Mavourneen. (Source: Wayne Erbsen, Rousing Songs and True Tales of the Civil War)